(Ln(x))3
The everyday blog of Richard Bartle.
RSS feeds: v0.91; v1.0 (RDF); v2.0; Atom.
---
11:59am on Sunday, 24th June, 2018:
No Comment
Outburst
The commentary on ITV for the World Cup is dreadful.

I watched the Germany/Sweden game yesterday. The commentary in the first half an hour was basically "Germany need to score to stay in the competition". After Sweden scored, it became "if it stays like this, Germany are out of the World Cup". When Germany equalised at the start of the second half, we got relentless different ways of saying "Germany need a goal", which then morphed into "Germany will have to beat South Korea and hope Sweden lose to Mexico" then "Germany have no way back after this". We got occasional banter between the commentator (Sam Matterface) and the co-commentator (Lee Dixon), and bizarre remarks such as comparing the height of one of the Swedish players with that of a light entertainment TV presenter of the 1990s, Matthew Kelly, or the impressiveness of a substitute's beard. It was mainly about stating and restating the drama if the result stayed how it was, though (and the implicit assumption was always that it would).

There was little actual commentary. Great strings of passes were made without any mention of the names of the players involved. Instead, we were asked to imagine what the newspaper headlines in Germany will be saying after the game. We were asked what this result means for the manager. We were asked what the problems were in the German camp that led to this. We weren't asked anything about Sweden, it was all Germany, Germany, Germany. Swedish players were sometimes named with reference to the less-than-salubrious teams in the UK they play or used to play for ("the former Wigan man", that kind of thing). On the whole, though, it was about Germany (often referred to as "the Germans" — you don't even get that with "the Argentinians").

The punditry was bad, too. Not so much the half-time analysis, which would have been better had it not been squashed between extended advert breaks, but the in-match punditry from the co-commentator was woeful. Why, when one of the German central defenders was sent off, did Sweden not leave a man upfield to keep the Germans from pressing forward? Why, in the dying seconds when the Germans had the free kick that led to the goal, did Sweden not have a man on the far post? I myself could see the danger from sitting in my armchair: why didn't the former professional footballer whose entire job it is to make pertinent tactical observations not mention it? What's the point of having a commentator who may just about recognise that a free kick is dangerous (because that word can be applied to any free kick taken in that location), but not say why it's especially dangerous right now because Sweden are making an error in their defensive positioning?

Bah!

Fortunately, the commentary for this afternoon's match is on the BBC. I'll be able to watch England's plucky attempt to overcome the might of Panama without the suspicion that I could get better match analysis in the pub up the road.




---
11:22am on Saturday, 23rd June, 2018:
Parallel Worlds
Anecdote
As any historian of computer games knows, the game Adventure was written by Crowther and Woods and was set in an underground world.

What they might not know is that over 200 years earlier, the book A Voyage to the World in the Centre of the Earth was written by Crowder and Woodgate and was also set in an underground world.

Ah, what would life be if it weren't for spooky coincidences?




---
3:27pm on Friday, 22nd June, 2018:
Mochi
Weird
Well these are weird.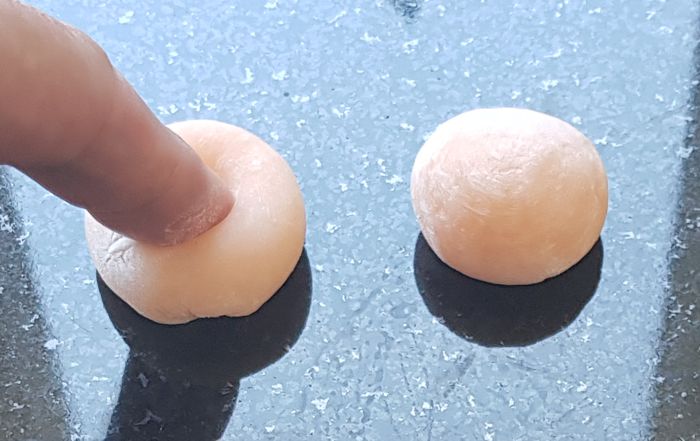 I've eaten half a packet and still don't know if I like them or not.




---
4:15pm on Thursday, 21st June, 2018:
Packaging
Anecdote
I think perhaps a smaller envelope might have done just fine for this delivery of stubby batteries I got off the Internet.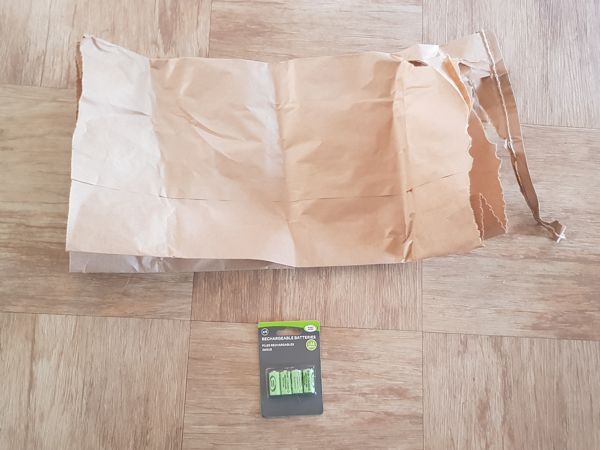 I guess they're used to people buying more than one packet at a time.




---
1:58pm on Wednesday, 20th June, 2018:
Killer Habit
Anecdote
A break is called 90 minutes into the two-hour workshop.

Colleague: If I don't have a cigarette, I'm going to kill someone.
Me: If you do have a cigarette, you're going to kill yourself.

There must have been 25 or 30 people at the workshop, around half of whom were male and half of whom were female. The men sat on one side of the room and the women sat on the other side. When I pointed this out, no-one could explain why.

The workshop was about learning and teaching, so we go to use some of the chairs that the learning and teaching people had bought a couple of years ago. This is what they look like: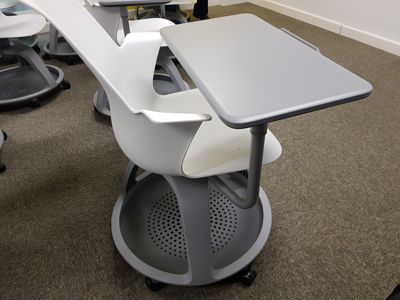 It turns out that if you put a coffee on the integrated table and then sit in the chair, the coffee will slop out. That happened to several people, but not me. I had tea.

I'm going to have to change the resolution on this monitor so the letters are more than 2mm high.




---
3:32pm on Tuesday, 19th June, 2018:
New Monitor
Anecdote
I got a new monitor today. It's an LG model IPS 4K, and I love it! It's the same size as my old monitor (24 inches), but 3,840 by 2,160 pixels.

The desktop icons are the size of a McDonalds chip in cross-section, and the text is so small I can't read a word of what I'm typing. Perfect!




---
6:02pm on Monday, 18th June, 2018:
Professor Game
Anecdote
I was interviewed a couple of weeks ago for the Professor Game podcast, which has now been made available at http://www.professorgame.com/podcast/034/.

I'm going to have to listen to it myself, as I have no idea what I said (nothing sackable-over, I hope). Maybe I'll leave it until after the football tonight, though (or during it if we're 3-0 down at half time).




---
7:47pm on Sunday, 17th June, 2018:
Who Too?
Weird
I saw this online ad for Second Life recently: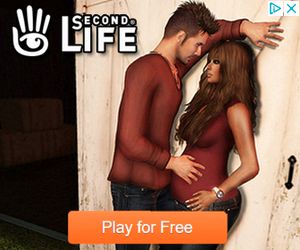 I've no idea what's going on between those two individuals, but the guy looks creepy and the gal looks pregnant.

Still, if it attracts new players...




---
3:18pm on Saturday, 16th June, 2018:
Salt
Weird
This is sea salt you can buy in Sainsbury's: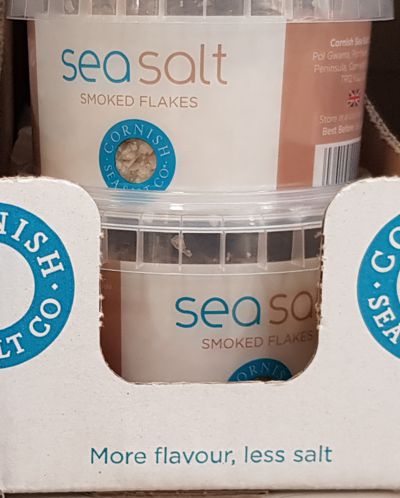 There can't be many products that try to make a virtue out of selling you less of it.




---
6:11pm on Friday, 15th June, 2018:
Recycle
Comment
This is the latest poster to adorn the bad-poster-ideas space between squares 2 and 3 at the university.





I hope none of the students who did badly in their exams interpret this as a reference to resits.

The failure rate for first-year computer science students is traditionally around 40%, regardless of university.




---
7:14pm on Thursday, 14th June, 2018:
Lincoln
Anecdote
I was in Lincoln yesterday and today, doing some external examining. As usual, it went well — their systems are all organised splendidly, and everything is available. It helps that they have fewer modules than we have, so there isn't the same administrative load; then again, they have fewer administrators. There were no problem modules, and the examination board ended an hour early.

It was my final year of external examining there, because the rule is you can't be an external examiner at an institution for more than four years; this was my fourth year. In all my visits, I only ever got to see the university. I never had time to visit the historic centre of Lincoln and look around, even though it's only a short walk away up a hill.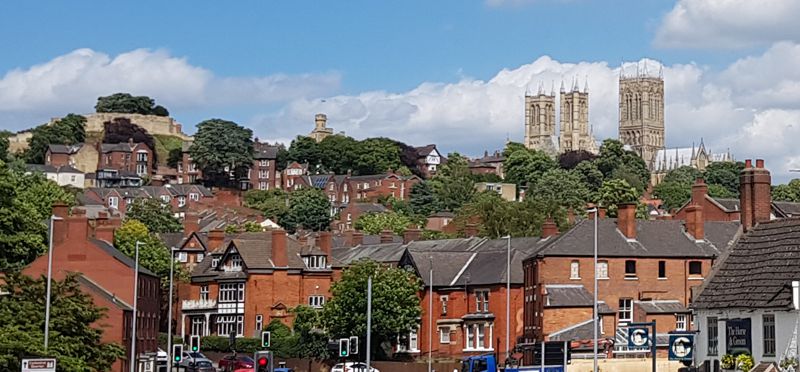 I hope to visit the city again in the future, but this time as a tourist.




---
6:22am on Wednesday, 13th June, 2018:
Comments
Comment
The Student Assessment of Courses reports are back for the MSc students. They're anonymous, so I'm allowed to show them.

One of the sections is for freeform comments. Most students don't bother to write anything in these, but some do. Here are the ones for CE817.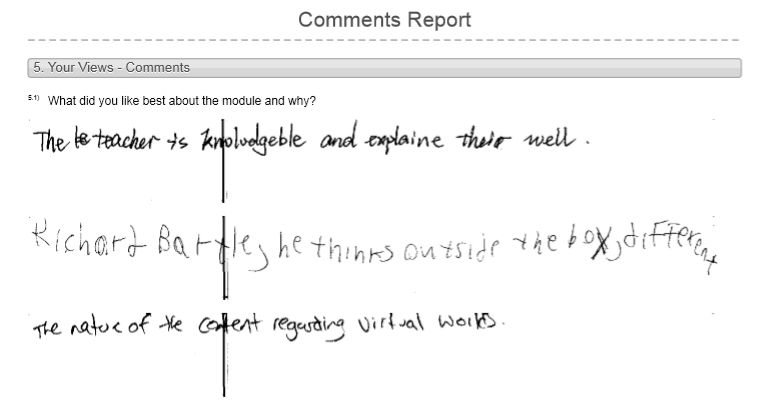 With handwriting like that, they should be doing doctorates...




---
4:14pm on Tuesday, 12th June, 2018:
Kingdom of France
Weird
I've seen this print in several hotels across the world. I don't know why, but it seems a popular picture to hang on guest room walls.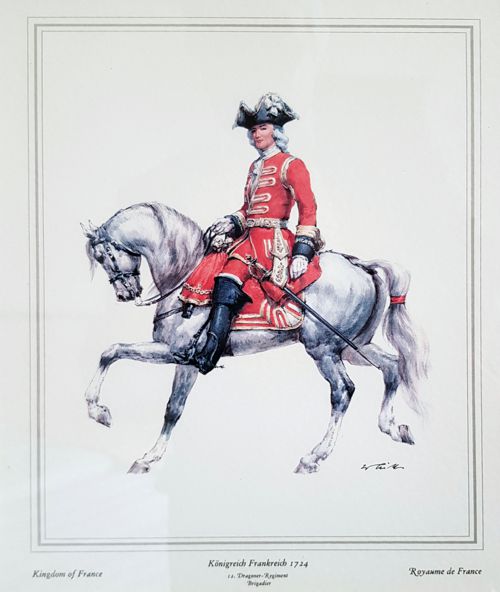 Every time I see it, I think "that man is way too big for that horse".




---
6:39am on Monday, 11th June, 2018:
End of Exam
Anecdote
My strength of will is such that despite the great temptations on offer, I don't show scans of student examination scripts. This is because I don't want to lose my job. However, because this particular student says that this isn't part of their exam script, I think I'm OK.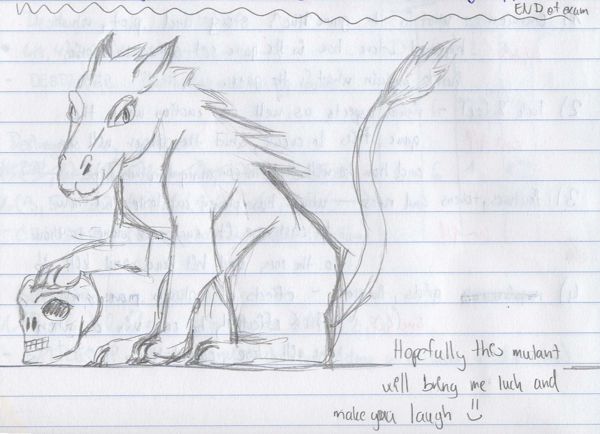 Unfortunately, I'm unable to comment on whether the drawing achieved its first goal, but it did achieve its second.




---
5:17pm on Sunday, 10th June, 2018:
Scrambled
Weird
Is this some kind of typing error, or does the Swedish word for scrambled eggs really have three gs in a row?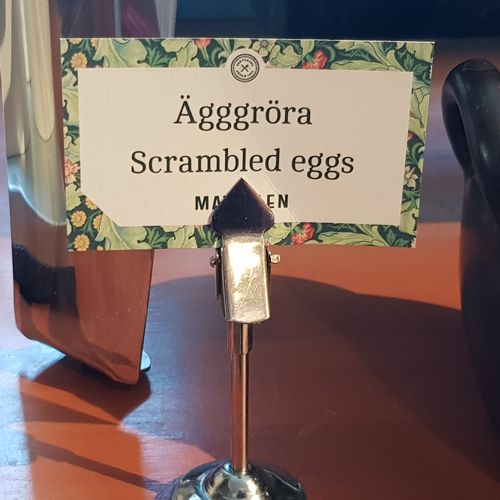 ---
Latest entries.
Archived entries.
About this blog.
Copyright © 2018 Richard Bartle (richard@mud.co.uk).