(Ln(x))3
The everyday blog of Richard Bartle.
RSS feeds: v0.91; v1.0 (RDF); v2.0; Atom.
---
1:59pm on Friday, 6th December, 2013:
Multiplying Decorations
Anecdote
I just took our Christmas decorations down from the attic. It used to be that they all fitted in one large box, but now we have the same box plus two large bags plus three or four smaller boxes and a tin.

This didn't used to happen in the days when decorations were made of glass and half a dozen got broken every year.




---
5:20pm on Thursday, 5th December, 2013:
Old Laws
Anecdote
Every year, I ask my CE317 students to read The Laws of Online World Design. I split them into groups, and each group produces its top 5 most important laws. Sometimes they come up with completely different sets, but often they intersect quite a bit.

Over the years, two of the laws have consistently been chosen in the top 5 of most groups:

Never trust the client.
Never put anything on the client. The client is in the hands of the enemy. Never ever ever forget this.

Rickey's Law
People don't want "A story". They want *their* story.

I wouldn't argue with either of those decisions, although it's still amazing how many modern MMOs completelty disregard them.

Looking back at the laws, though, it's clear that they're of their own time. The emphasis on role-playing, for example, is now largely irrelevant (mainly because one of the laws — Koster's Law — is correct, and the quality of role-playing is indeed inversely proportional to the number of people playing). Many of them remain as strong today as they ever were, however, and when I asked the students this year if I should repeat the class next year, they were all for it.

I don't personally agree with all the laws, but anything that gets students to think is good. They can make up their own minds.




---
3:52pm on Wednesday, 4th December, 2013:
Visit Day
Anecdote
It was the first visit day of the academic year today. A visit day is one in which prospective students come to the university to have a look round and to be interviewed. It helps us find out who we want here and helps them find out if they want to be here.

That's all by the bye, though. The important thing is that we lecturers get free sandwiches for lunch.

Every year, some old varieties of sandwich are phased out and some new ones are introduced. There are some staples (when all else fails, you can always rely on the egg ones) but usually there's some experimentation. The first visit day of the academic year is therefore a source of excitement tinged with a little dread. What will we be being served up for the next 4 months for our free lunch?

The big newcomer this time was a spring onion and mayonnaise sandwich. When I picked one up, I'd done so in the belief it was some kind of egg-with-green-stuff-in-it variation, but soon discovered it was Something New. Actually, it wasn't bad at all.

I won't be having any more, though. There's no need, given the fact that several hours later I can still taste nothing else in my mouth but spring onions, despite everything else I've eaten since then. I'll probably still be able to taste it in April...




---
6:01pm on Tuesday, 3rd December, 2013:
Better Out than In
Miscellaneous
The news coverage regarding Tom Daley's announcement that he's dating a man has been rather weird. It seems to focus on three main points:

1) That he's brave for coming out.
Well yes, but we already know he's brave. He jumps off a 10m-high board into a pool while spinning and twisting and turning. He could break his neck. Of course he's brave — being brave is part of his job specification!

2) That there are many non-heterosexual people in sport who haven't come out.
This is undoubtedly true, but it's the way they use the figures that I'd like to question. Usually they take some fraction (3% in the BBC's case) that estimates what proportion of the general population is gay, then they apply it to some occupation that claims suspiciously few gay participants (in a sports context, this is usually men playing soccer), then they estimate how many people who pursue that occupation must be in the closet. This fails to take into account that some occupations seem to be more or less attractive to gay people than others. There are many top-ranking female tennis players who are out, for example — certainly more than 3%. I don't know why this is the case, but, its being the case, there should be a caveat attached to the use of population-wide figures applied to sub-populations. After all, around 51% of the population is female, but that doesn't mean half the players of the Premier League are secretly female.

3) That this shouldn't be news.
The media seem to be quite self-reflective in wondering why they're reporting the news that Tom Daley is gay (actually, from his own account, bisexual is probably the more accurate term). Why is it news that he's said he's dating a man? It wouldn't be news if he'd said he was dating a girl. Hmm, well I agree with them that it's not news that he's dating a man, but that's primarily because most of the population has assumed for years that he's gay. It's no surprise at all that it turns out he is.

It would be great if we saw a wave of other sports people come out as a result of this — even if they did so for safety-in-numbers reasons. It would be especially good if an England football player were among them: that way, we could get rid of the dreadful term WAG for "wives and girlfriends" that's used to reduce partners to stereotypes every World Cup...




---
9:33am on Monday, 2nd December, 2013:
A Designer, Not a Poet
Comment
To create great work in a medium, you have to see the world through the terms imposed by that medium.
The creators of great works operate in the medium that best matches how they see the world anyway.
Game design involves the understanding and creation of interacting systems.
Therefore, the people attracted to game design are precisely those who naturally think in terms of interacting systems.

To create a system that works, you have to consider ways that it could be broken.
The creators of working systems have to think how the users of those systems might think.
Games involve many players thinking in many different ways.
Therefore, the people attracted to game design must naturally think in terms of how systems can be broken.

To change the world, you have to communicate with those who have the power to change it.
The consumers of great works pick up on the world-views of the creators of those works.
Game designers see interacting systems as functioning structures which can be broken.
Therefore, the players of games will also come to understand that functioning structures can be broken.

To be free, you have to live in a world where laws liberate you, not define you.
The people who are governed have the power to change how they are governed.
Games are teaching their players that broken systems are for exploiting.
Therefore, as more people play games, the freer they can make themselves.




---
3:48pm on Sunday, 1st December, 2013:
1 Percent Grey
Anecdote
My local newsagent is going to have to face the fact that he needs a new ribbon for his printer:





I had to put a black piece of card behind that to scan it, because with the default white it was invisible.

My guess is that the reason he hasn't replaced the ribbon is because they don't make ribbons for his antique dot-matrix printer any more.




---
2:45pm on Saturday, 30th November, 2013:
Independence
Comment
Suppose that the Scots vote for independence in the referendum on 18th September, 2014. The date of independence would be 24th March, 2016, in order to allow tiem for negotiations with the rest of the UK for the divvying up of assets and debts and the orderly transfer of power.

There's a general election due in 2015. This election could well be won by Labour thanks in no small part to the number of seats they are likely to hold in Scotland. That would mean a government reliant on the votes of Scottish MPs would be negotiating with the Scottish parliament for a deal over Scottish independence.

That sounds as if it could lead to a deal rather more favourable to Scotland than it perhaps ought to be.




---
9:22am on Friday, 29th November, 2013:
Offer
Weird
I don't play golf myself. My main preoccupation with it is whether I should write its name as "golf" like everyone else does or as "Golf" like I do with other games.

That said, it does occasionally impinge on my life. When I go to the train station in Colchester, I drive past a golf club (by which I mean an association for golfers, rather than a tool for striking a golf ball). When I'm on the train, I go past another. An advertisement for the latter was in among the bunch of fliers I was reduced to reading at breakfast this morning as I didn't have anything else within reach to read.

So, previously I felt confident that golf was a snobbish, expensive sport, but in the light of this new information I'm coming to believe that there are two ends to the market: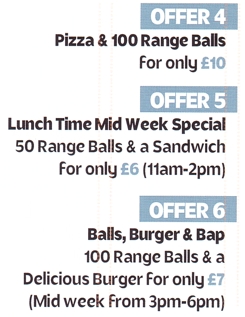 They seem to be expecting that people will think, "Hmm, normally I wouldn't be tempted into paying £6 to use a stick to hit a ball into a hole, minus the hole, fifty times, but that sandwich has sold the idea to me". I can imagine the queues forming right now. I particularly like the way that the burger is flagged as being delicious but the pizza and sandwich aren't; it suggests that laws against false advertising may be casting their shadow over the text.

They spelled "buggies" as "buggy's" in offer 3 on the other side of the paper, too.




---
3:37pm on Thursday, 28th November, 2013:
Little Card Knowledge
Anecdote
Another pack of cards entered my collection today. This is by C. L. Wüst — one of the more sought-after historical manufacturers. This is only the second pack by Wüst I've managed to buy. Here's its Ace of Hearts: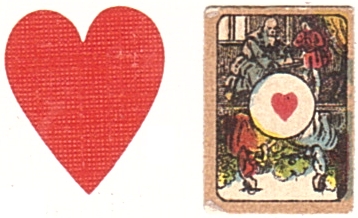 The heart next to it is the centre of the Ace of Hearts of a regular Waddington's Number 1 pack. Yes, this new pack is tiny — I believe it was manufactured for dollhouses. It's hard to find out much about it, though, because it doesn't appear in any of the usual catalogues. I guess the fact that it's so small means they don't count it as being a pack of cards (you'd have a hard job playing a game with it). The cards are turned, so it probably dates from around 1870 or so.

These things show up every 3 months or so on eBay, but I've never won a bid before because they usually go for five times more than I'm willing to pay. This time I struck lucky, perhaps because they were sold from the Netherlands so American collectors didn't see them.

Now I have to figure out how to get them back in the box...




---
2:13pm on Thursday, 28th November, 2013:
Flirting
Weird
The university has finally got its digital screens working: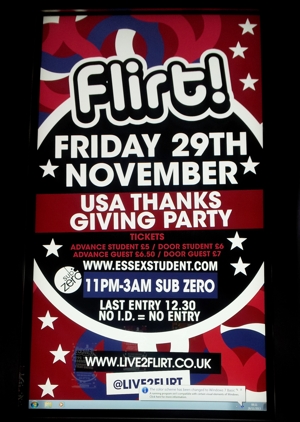 Well, when I say "working"...



---
3:04pm on Wednesday, 27th November, 2013:
Hopeless
Anecdote
We've cancelled the Kickstarter campaign for The Hopefuls, on the basis that after an opening week in which 12 people pledged a total of £270 we were never going to make the target. If you were one of those 12 people, thanks and sorry.

In part we lost momentum because interface issues meant it was difficult for would-be US investors to invest. However, we were hoping for more passing investment from regular Kickstarter boardgame enthusiasts than we got; the other three boardgames that launched the same day all picked up more investors than we did. It looks, therefore, as if the way to go is to build up a group of potential investors first (by taking prototypes of the game around and getting people to play it — it is actually a good game) and then go to Kickstarter.

Oh well, I guess that's what we'll try. Watch this space...




---
12:27pm on Wednesday, 27th November, 2013:
Shredded
Anecdote
Under UK law, when you close a company you have to keep its records for 7 years before destroying them. As I closed MUSE Ltd down in September 2006, I finally got around to doing the destroying. Actually, I took most of the records to the council recycling centre, but I had to shred a pile of material about 5cm thick in case the credit card numbers of former players haven't changed in 25 years. It didn't take as long as I thought it would, mainly because fanfold paper is easy to feed into the shredder.

Among the documents I went through before consigning them to be remade into tomorrow's egg boxes, I found this letter from CompuServe: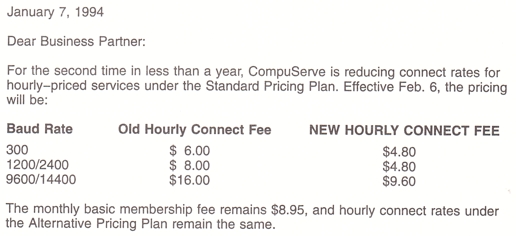 This explains how something like MUD1 could rake in over a million dollars a year for CompuServe.

I wonder how many people today would pay an $8.95 monthly subscription fee plus $16 an hour to play their favourite MMO?




---
4:18pm on Tuesday, 26th November, 2013:
Signalling Problem
Weird
This sign is at Colchester Station above the entrance to the ticket barriers:





I have no idea what it means.




---
4:12pm on Tuesday, 26th November, 2013:
Parking Prices
Anecdote
I like the new multi-storey car park we have at the university, but there's something seriously wrong with its parking charges.

Yesterday, I arrived at 8:25am and left at 10am: it charged me 60p. Today, I arrived at 8:25am and left at 3:30pm: it charged me 10p.

Maybe it has a day's lag or something?




---
2:28pm on Monday, 25th November, 2013:
Windows
Weird
We've had some swanky new screens installed on the steps between squares 3 and 4 at the university: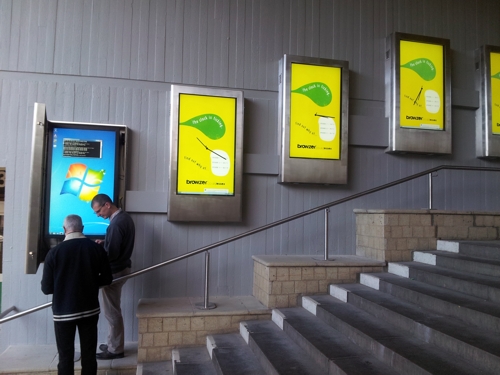 Yes, that is a couple of guys rebooting the bottom one after it crashed...




---
Latest entries.
Archived entries.
About this blog.
Copyright © 2013 Richard Bartle (richard@mud.co.uk).