(Ln(x))3
The everyday blog of Richard Bartle.
RSS feeds: v0.91; v1.0 (RDF); v2.0; Atom.
---
11:35am on Wednesday, 12th March, 2014:
Membership
Anecdote
I dug out my old Computing Society membership card yesterday: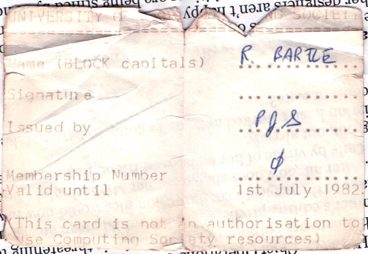 It didn't take much digging out, to be honest, as it's been in my wallet for 32 years. Hmm, maybe I won't bother putting it back...




---
3:21pm on Tuesday, 11th March, 2014:
World of Cats
Outburst
Tired of seeing your MMO dumbed-down in ever-more-desperate attempts to attract more casual players?

Solution: attract people who are even more hard-core than gamers!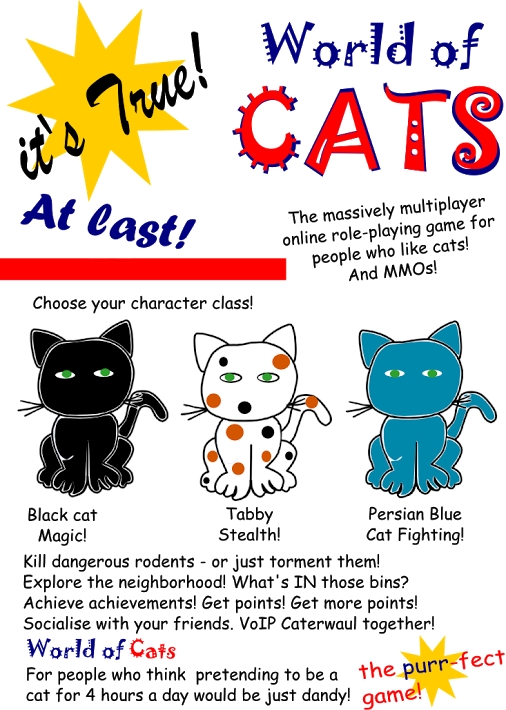 Yes, now you come to mention it, one of my students didn't show up for his meeting this morning.




---
4:58pm on Monday, 10th March, 2014:
Bad Timing
Anecdote
I was working at home today, as we have a chap in constructing my new home office. Most of the time I was writing stuff or sending emails, but at 10am, 1pm and 4pm I broke off so I could join the Flappy raid for 15 minutes in The Secret World.

At 10:05am, 1:05pm and 4:05pm, my father-in-law came to see me to ask something or other. Each time, he saw me playing TSW, and now he thinks I've been doing it all day.

I wouldn't care, but I only got 3 lousy green signets out of it anyway...




---
4:31pm on Sunday, 9th March, 2014:
Open Shop
Anecdote
This is from a slide for a presentation I'm giving to Essex University Computer Society next week: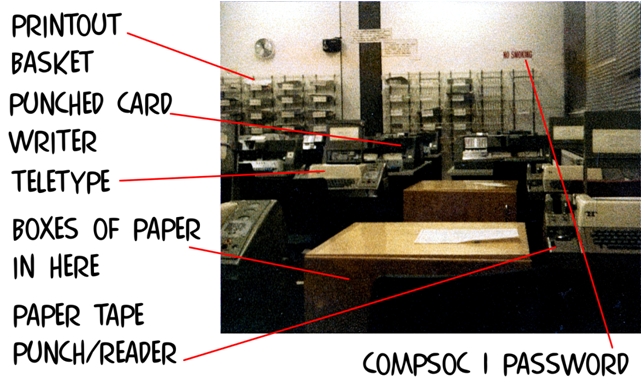 It's the "open shop", our state-of-the-art computer laboratory, in 1978.

This, boys and girls, is why we had no graphics in MUD1.




---
4:47pm on Saturday, 8th March, 2014:
Carpet Wrong
Comment
We went to buy a new carpet today for my being-refurbished home office.

Different carpet manufacturers have different pictures advertising their wares. Some of these pictures are just of carpets, but others are of an individual lounging about on the carpet. In every case of a lounging individual, the individual was female.

This is another instance where there seems to be a collectively sexist attitude but it's not clear which sex is being discriminated against.

PS: If a car park has a sign saying CARS PARKED AT OWNERS RISK in it, does that mean the owner of the car or the owner of the car park?




---
2:08pm on Friday, 7th March, 2014:
Ivy League
Comment
This week, the glass and concrete of Essex University was augmented by some troughs full of ivy: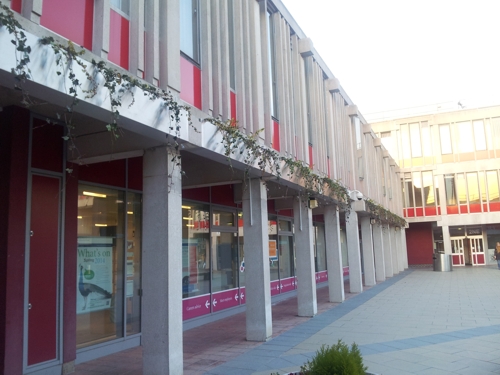 These are going to look really good when the ivy has thickened up and dangles down to knee level. It'll be like walking down a corridor with glass and concrete on the left and ivy on the right.

OK, so I don't suppose it'll be llowed to get to knee length, on the grounds of its being a fire risk or mugger screen or something, but still, it would look good if it did.

I don't think it'll qualify us for the Ivy League, either.




---
1:19pm on Thursday, 6th March, 2014:
The Full Boggart
Comment
A couple of years ago, I mentioned the song The Railway Boggart, which I learned at school. I recalled the first verse, but that's the only one we were taught.

Yesterday, I heard from someone who owns an actual copy of the book it was in, Susan Barnett.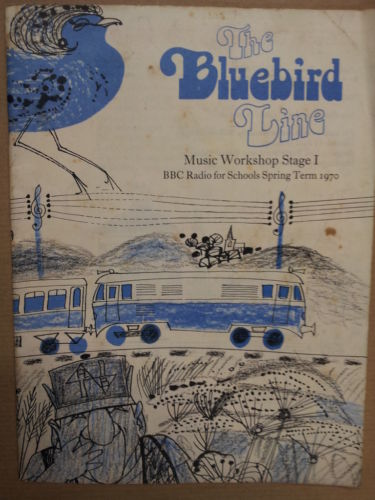 She gives the full set of verses as:

Dwarfs live underground,
Dryads in trees,
There are trolls and goblins and imps and ogres,
Bogeymen and kelpies but much better than these
And very much nicer is such a rogue
As the railway boggart.
He doesn't clank chains
But has lots of fun
In railway trains.

He's no long ago fairy,
elf or gnome.
He is not a fire drake or a pixie.
Doesn't haunt the bedrooms in a stately old home,
There's only one place to see all his tricks,
He's a railway boggart
Who likes to take pains
To do all his tricks
In railway trains.

Ghosties and ghouls which go
Bump in the night,
Or the mischievous Cornish sprite called a piskie,
Little outer-space men come and give you a fright
And leprechauns sometimes spit in the whisky!
A railway boggart
From all this refrains
And only does tricks
In railway trains.

Looking at my rendition of this, I had the second-to-last line of the verse I'd remembered wrong: I had "But plays all his tricks" instead of "But has lots of fun". It seems I was taught the other verses (badly!) and conflated one of the lines from there into the first verse. I do hazily remember the piskie bit, come to think of it.

Hopefully, this will satisfy the steady stream of 50-something people who have emailed me on the subject. Thanks, Susan!




---
6:16pm on Wednesday, 5th March, 2014:
Filtering
Comment
I thought the sandwiches we gave prospective students on visit days couldn't get any worse, but judging by today's offerings I was wrong.

Maybe it's some kind of filtering system to make sure we only get students who will be able to stand the food in the restaurants.?




---
1:26pm on Tuesday, 4th March, 2014:
Long John Sliver
Anecdote
One of the many useless rewards you get in The Secret World for killing Flappy (formally, the Bird of the Zero Point Pathogen — so called presumably because there is zero point to killing it) is a bunch of Third Age Silvers. Everyone calls them Third Age Silvers, or Silvers for short.

Hmm, well actually when I say "everyone", I mean "most players for whom English is their first language". See, the game itself refers to these things (which are basically a form of currency) as Third Age Slivers. That's Slivers, not Silvers. Out of some kind of unspoken agreement that it really ought to be Silvers, though, that's what first-language English speakers call them. I'm pretty sure that most of them think the things actually are called Silvers, come to that. Foreign-language players occasionally ask why people call them Silvers instead of Slivers, and never get an answer — I guess because it looks as if they're asking why Silvers are called Silvers.

I'm sure there's an academic paper in this somewhere...




---
11:25am on Monday, 3rd March, 2014:
Gamify
Comment
I keep telling people that the verb "to gamify" used to mean taking something that wasn't a game and making it into a game, whereas now it means taking game ideas and using them to make things that aren't games.

It occurred to me that I haven't presented any evidence of my assertion regarding what "gamify" originally meant, so I looked through my old emails.

Here's a quote from a 2002 email that was part of a book interview request:

Initially, I started out as one of about half a dozen hackers who would give Roy suggestions for his game (not that he needed them). In particular, Roy called it a game and programmed it to be a game, but didn't have any hardened grasp of what it meant to be a game. I had a strong background in gaming, and was able to gamify the concept. My aim for doing this was primarily to attract players: a world with no inhabitants is no fun at all. I understood that not all people would want to game when they got there, but being a game would draw them in. Anyway, I liked games!

Here's another from a 2004 email that was part of an interview for Edge:

>Did you actually view it as a video game at this point (or even now)?
When I took it over from Roy, it wasn't really a game although we all called it one. I made a conscious decision to gamify it, so that people could play it as a game if they wanted (but they didn't have to if they didn't want). I felt that if people had a reason to play (ie. trying to win) then they might pick up on the freedom aspects too. Oh, and I liked designing games.

I also used the term "gamified" in the email exchange for Edge:

Both these games were pre-D&D, by the way. A lot has been written about the influence of D&D on early designers of virtual worlds (see the book, Dungeons and Dreamers), but in my case it wasn't all that much of an influence (and it Roy Trubshaw's it was none at all, as he hadn't played it). I deliberately used a D&D-like experience/level system when I gamified MUD, as an extension of the "you have X lives and then you're dead" idea we were originally going to use.

There, see? I wasn't making it up.




---
2:53pm on Sunday, 2nd March, 2014:
Electric
Anecdote
As we're redecorating my home office, we got some new electrical fittings. Today, I took out the old fittings and replaced them with new ones. There was a light switch and two wall sockets — easy!

It took me nearly two hours to fit them.

The light socket was the main problem, because one of the screws wouldn't come out. It seemed to be made of soft metal rather than steel, and when I tried to turn it the screwdriver started to smear the slot across the head. I managed to get it out by around two millimetres, but then it was useless. I had to use a hacksaw to cut the head off.

Inside, I could see the problem. The screw, which was quite long, was bent. Oh well, all I needed to do was to unscrew it using a pair of pliers instead of a screwdriver. It might have worked, too, if the screw hadn't sheared in two...

Based on the now apparent universal softness of the metal, I decided to bend the rest of the screw to give me better leverage in rotating it. This only succeeded in snapping off another piece of it, down to the level of the hole in the circuit box that the screw screwed into.

Only one thing for it, then: drill it out. If I'd known I was going to have to do this, I might have taken the time to see which circuit the lights were on and only switched that one off. However, I didn't know I was going to have to do this, so had switched off all the power. I had to switch on the power again, then switch off the circuits marked "lights". Bearing in mind that the house's wiring is idiosyncratic (our freezer is attached to a circuit marked "lights", for example) this meant there was no guarantee that the naked wires sitting in the circuit box were not live. I needed power to do the drilling, though, so chanced it. The fact that I am alive here to type this demonstarted that my gamble paid off.

I had to step up through three drill sizes before I got the screw drilled out, except for a bit at the back that wouldn't come loose (although it later yielded to my wife's smaller fingers and razor nails). Eventually, though, it was clear. I put a test screw into it and it worked. I attached the switch to the wires, pressed it against the wall and put in the screws.

Oh. Too short.

After searching through my box of assorted screwsm I managed to find an electrical screw of the right length if not the right colour, and forced it into the holes. I found a slightly shorter one that I fitted to the other side. I screwed them both in and finally had something that I could test.

It worked!

Sadly, it worked only in the sense that if you pressed the switch the light would come on and if you pressed it again it would go off. I'd put it on upside-down. It looks as if it's on when it's off and off when it's on (although to Americans it would be the right way up, unlike every other wall switch in the UK).

I decided to leave it as it was until I got some long brass screws to use instead (which I've just got back from buying at B&Q). The screws for the wall sockets were also too short — even though I could use the originals — because the new socket assemblies are thicker than the old ones and the screws go in at the sides, not at the top and bottom (which is where the old ones were attached). They seem to work, though, in that my wife didn't die when she plugged the vacuum cleaner into one of them.

No wonder I never get any time to do research.




---
2:56pm on Saturday, 1st March, 2014:
Bag Check
Anecdote
For reasons to do with the weather and taking people to train stations, I haven't done the weekly shop at Sainsbury's for several weeks. When I went there today, I wondered if perhaps they might be missing my custom and add some special offers to the till receipt to try tempt me back.

What actually happened was that I was called out for a bag check to make sure I'd scanned everything.

I loathe these checks. Firstly, if I use the "scan and go" system it's because I want to scan and then go, not scan and then have my bags emptied, everything rescanned, then put back in different bags from the ones they came out of. Secondly, I'm basically being accused of shoplifting. Thirdly, I'm worried the whole time in case I've accidentally not scanned something and I'm going to wind up in court.

Needless to say, they didn't find anything in my bags that I'd failed to scan.

I see why they need to do this (although not every bag — a random one would have done). However, it's not pleasant. The shop workers who have to do the scanning and repacking don't like it either ("unless it works", they said, meaning they were happy if it caught someone). From their attitude, it would seem that quite a few people are indeed caught, which leads me to suspect that some form of profiling is involved — it's not purely random. They were particularly concerned that it had come up with the request for a rescan "straight away", without even listing on the screen everything I'd scanned with the scanner.

If they want people to stop hating them for this, they should give some carrot, not just implied stick. I'd be happy to have my shopping scanned every week if, should my scanning pass muster, I got it for half price. That would be a gesture of good faith, and show some contrition at having delayed me by 10 minutes so they could check I wasn't a thief then put onions in the bag with the refrigerated items in it.

Maybe I should go to Asda more often.




---
11:26am on Friday, 28th February, 2014:
Aurora
Anecdote
Just before going to bed last night, I looked at the BBC news and saw a headline about the Northern Lights.

I've never seen the Northern Lights. I want to see the Northern Lights. According to the BBC news piece, posted an hour earlier at 23:01, the Northern Lights were visible in the UK as far south as Essex.

I live in Essex! I want to see the Northern Lights and they're visible in Essex!

I went outside. The sky was absolutely cloudless and I could see countless stars in all directions. No Northern Lights though. There were some flashes reminiscent of distant lightning that seemed to fill a lot of the sky, but they were probably of human origin; they originated in the west, too, not the north.

Damn damn damn! Still, the Northern Lights are notoriously unpredictable, so they may have been visible for a while then gone away, but could yet come back. I decided to go to sleep and wake up a little later to see if they had indeed come back.

Around 5:30, I woke myself up and had another look. Still no Northern Lights. I couldn't see the actual horizon in the north, so I guess it's possible they were visible very low down. Oh well.

I expect they'll be out again tonight, but as it's currently raining I don't think the skies will be clear enough to see them even if they're visible as far south as the equator.

On the plus side, the dream I got that woke me up at 5:30 had some really pretty particle effects in it.




---
4:09pm on Thursday, 27th February, 2014:
Dig for Victory
Anecdote
There was a man from the council outside our house today, measuring the depth of the potholes.

Hmm, if I'd known that was going to happen, I might have taken a trowel to the one I have to drive over every morning, just to make sure it's deep enough to be considered a candidate for filling-in.?




---
2:32pm on Wednesday, 26th February, 2014:
New Server
Meta
I switched servers for mud.co.uk today. It seems to be working fine, just now it doesn't have its own dedicated IP address so should be cheaper to host (note: should...).

Anyway, if you sent me email to mud.co.uk today, it may have gone to the old one while the new domain name information was being propagated. If you don't hear back from me soonish, email me again — it probably went to the old server instead of the new one.




---
Latest entries.
Archived entries.
About this blog.
Copyright © 2014 Richard Bartle (richard@mud.co.uk).