(Ln(x))3
The everyday blog of Richard Bartle.
RSS feeds: v0.91; v1.0 (RDF); v2.0; Atom.
---
12:00pm on Saturday, 29th August, 2015:
Spoons
Anecdote
We have accumulated five sets of teaspoons over the years. One set is used exclusively for stirring cups of tea and coffee. See if you can guess which one...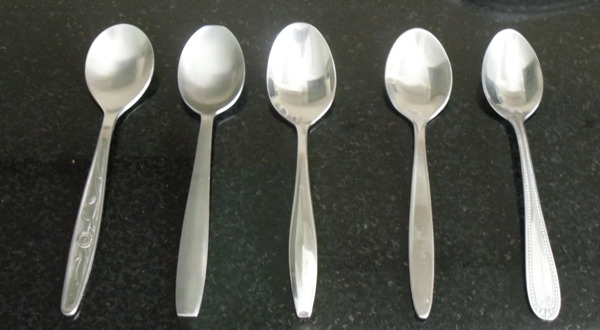 ---
4:57pm on Friday, 28th August, 2015:
High Praise
Anecdote
My niece Louise came to visit from Wales today. She's 17, and it's several years since I last saw her.

Eek! She's tall! Maybe the same height as I am! How did that happen?

My wife and daughters only come up to my chin, but she can look me in the eye. I'm going to have to go lie down to assimilate this, I'm not used to having tall relatives...




---
3:18pm on Thursday, 27th August, 2015:
7, 8, 10
Outburst
I'd be more confident about this Windows 10 install if the button on the "Windows 10 is downloading!" window that says "View download progress" did indeed view download progress when I clicked on it.




---
9:14am on Thursday, 27th August, 2015:
Desperate Times
Anecdote
Things you don't want to see while racing to use the toilet: the postman struggling up the path with a very large box of gawd-knows-what your daughter has ordered off Amazon.




---
2:18pm on Wednesday, 26th August, 2015:
Yellowing
Anecdote
This Barbie horse has lived in the same cupboard for a decade, but still seems to have suffered sun damage: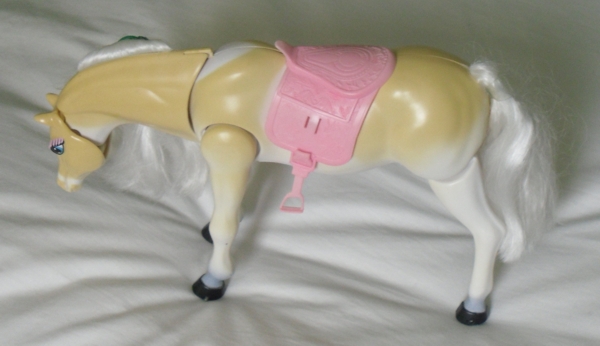 You can see a patch of white where its head goes when it's raised. It's just as white under the saddle.

Either the effects of an overdose of ultra-violet light take years to manifest themselves, or someone has been taking it out and playing with it.




---
2:44pm on Tuesday, 25th August, 2015:
Just a Bit
Anecdote
When I was away in Spain a fortnight ago, my father-in-law visited. He took the opportunity afforded by my absence to drill a drainage hole in our patio wall. To do this, he needed a new drill bit. I didn't see this bit as he'd hidden it, but today he used it again.

This is it:





That's ... a big bit.

It's so big, it's amazing that it didn't damage my drill. Well, not so amazing, as it did actually damage my drill. OK, so the drill is so old that it says "Made in West Germany" on it, but still...




---
3:44pm on Monday, 24th August, 2015:
Wet Day
Anecdote
I was working from home today as I had a video call to make, but I was planning to go onto campus tomorrow.

That was until I received this email:

All,
Please be aware that the corridor on level 4B is currently flooding, and has been reported to the helpdesk.

My office is number 4B.529.

Maybe I'll stay at home tomorrow...




---
3:01pm on Monday, 24th August, 2015:
Gem of Zakhara
Anecdote
This is my favourite cover image from any of the games I have: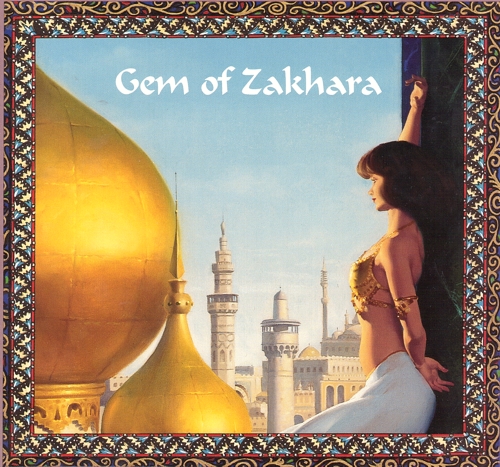 It's the Gem of Zakhara booklet in the City of Delights supplement for the Al-Qadim setting of the Forgotten Worlds campaign series for Advanced Dungeons & Dragons 2nd Edition.

That's not really important. I just adore the image. You can't but help look at it and start to imagine what the young, languid-but-wistful-looking woman might be thinking.

The thing is, this is the cover of the booklet, but it's a cropped image. The City of Delights box itself has the full one on it. She's standing on one leg that looks disproportionately long, her other leg bent and resting not entirely persuasively on the pillar that she's leaning against. Her slong skirt is caught by the wind and forms an artificially straight line continuing the top of the balcony metalwork. There's a black, red-eyed, winged, feline beast on the floor (which is used for the cover of the other booklet in the box, Golden Huzuz). The full picture (you can see it here if you really want to look) is nowhere near as effective as the cropped version.

I've seen this picture in real life at a GenCon in the 1990s, where it was for sale. It was more than I could afford, but if it hadn't been?

I wondered at the time if, had I the means to buy it, I would have had it trimmed and reframed, or if I'd have kept it intact but less impactful.




---
10:17am on Sunday, 23rd August, 2015:
Crossing
Weird
Some of my paternal grandmother's ancestors hailed from Ferrybridge in Yorkshire. As the name suggests, there used to be a ferry operating there.

The parish records for Ferrybridge haven't been properly indexed, so I've been reading through them sequentially from 1694 for about a decade. There seem to be a lot of people didn't make it over the water safely, as the burial records include:
The man who drowned.
A woman passenger.
A young woman.
A Scotch man.
Bad news if one of those is the ancestor you're looking for in your own genealogy research. It just goes to show, though, that crossing a major river circa 1700 was more dangerous than flying in an aircraft today.




---
4:51pm on Saturday, 22nd August, 2015:
Darlings
Comment
I got a lot of feedback when I sent out drafts of my second Lizzie Lott novel for people to read. People seem to like the story and the characters, but the book's pacing is problematical. I concluded that it's far too long and needs tightening up.

I started work on this on and off over the summer, and have had some success on the tightening-up parts. Long descriptive paragraphs have been cut, unnecessary pieces of characterisation have been removed, dialogue has been sharpened; it's been successful enough to take 3,000 words out of the first 5 chapters (which are now only 4 chapters). However, the next chapter, which is where I've reached, is where the pacing problems start.

The particular chapter in question (set in the music hall, if you're one of the book's beta-testers) is one I spent a lot of time on. It has multiple layers of meaning to do with identity, role-playing, even games and the magic circle. I really like what it does. However, there's no real action there and the story itself kind of stalls.

The solution to this adopted by most authors is simply to write more to fix the problem. Cutting the good stuff is known as "killing your darlings", a phrase normally attributed to William Faulkner but probably older. Anyway, you don't want to kill your darlings because you invested so much effort in them, so you add whatever is necessary to make your story work. For example, in my Lizzie Lott book #2 I could have introduced some kind of action-packed incident to emphasise that this is the part of the story where the protaganist realises she's in a different world where she can openly use her powers.

I, however, am not an author by training. I'm a programmer by training. When a programmer sees a problem with some code they've sweated blood over, they try to think of a better way of doing it. If they succeed, they kill that darling dead, without an ounce of remorse, because why would you keep something you know is inferior, no matter how much effort you spent on it?

So, that's one entire chapter and half another I'll be scrapping, for the price of rewriting half the one in between.

Die, darlings, die!




---
11:22am on Friday, 21st August, 2015:
Experience Losses
Comment
There's a growing tendency among game developers to describe what they do as being the creation of experiences rather than being the creation of games. The job of designers is to design said experiences, not to design games, because games are a kind of experience.

I can see why this idea has gained purchase: modern computer games aren't just about gameplay, they're about the whole package. Players can be put off by bad graphics, bad animation, bad interface, bad music and bad voice acting; done well, though, all of these can enhance the player's involvement. If developers don't put together the whole experience in an integrated fashion, players will have less fun.

It's in the best interests of developers to promote this view, too. If the team is building an "experience", then it means that everyone's creative input is accorded equal value. It's not all about the lead designer, it's about the whole company. If you have 200 people working on a game, all of them deserve credit for the final product. It's true, too: they do. So this is all very egalitarian and good for morale - but as a side-effect, it means you don't get any stars. This is what corporate types like. Stars are bad for a development studio, because stars want more money. If everyone is a twinkle, no-one is a star and things will run more smoothly. If you want a star, hey, the studio is the star!

Nevertheless, there clearly is some direction in game development: the individuals involved don't all work independently, with the product just coming together organically at the end. No matter how much companies try to share the love around, people who engage with games (as players, critics or academics) do notice that some games are better than others — even games from the same studio. Ultimately, one individual has to be responsible for that difference. So, who?

If you take the games-as-experience line, you have a problem here. You've said everyone is equally responsible, but few in the real world are buying that. You can pin creative control on the lead designer, so long as you make sure you properly downplay your narrative: the designer is just the humble person who is lucky to have their crazy ideas turned into sane product by this supportive team of amazing individuals. This is the honest way to do it if you really do see design as being about experiences first and games second - indeed, it's the approach taken by Jesse Schell in his wonderful book, The Art of Game Design.

However, this is incompatible with projecting your company brand as being the name to trust. You don't want to raise any one creative above the others at all. Unfortunately, everyone there is creative, so ..?

So you say that the game's producer is the person who is most responsible for the player experience. This does make pedantic sense: just as a movie director is the person who most determines what the viewer sees on the screen, you can argue that the producer is most responsible for what the player actually plays. In this view, designers are like screenwriters, not like directors.

I don't accept this. The reason that movie directors get the auteur label is that (in theory) they look at hundreds of screenplays and choose the one that most connects with the kind of movie they want to make. Even in practice, working with an already-chosen script for a franchise, they get to decide whether a project is right for them or not before taking it on. Producers don't look at hundreds of game designs (either in theory or in practice), and neither do they move around from studio to studio seeking a project they like. Sure, the game industry isn't mature enough yet for that to happen for anyone, but it's hard to imagine its happening ever for producers-as-creative-leads.

All this is incidental, though. Personally, I don't think that the view of game design as experience design is accurate in the first place.

My reason for this is that it fails to give proper emphasis to the role of the player. Players don't play experiences, they play games. They have experiences, but they are partly the authors of these experiences through their play. Designers therefore don't design experiences, they design for players to construct their own experiences. A space in which players can author their own experiences is a place of play; if the play space intrinsically implements the concept of winning and losing (or at least losing), that makes it a game.

Calling games "experiences" suggests that players are more passive than they actually are, and conflates the notion a play space with that of the play that takes place within it. I don't mind using games-as-experience as a rhetoric to help improve a particular design, but to me it falls short as a stand-alone philosophy.




---
7:57am on Wednesday, 19th August, 2015:
A Chat with Matt
Anecdote
I did a 2-hour long Skype/video interview with Dr Matt Barton of Matt Chat recently, and the last one has now been uploaded. They're here:

https://www.youtube.com/watch?v=F_7_EMjjysA
https://www.youtube.com/watch?v=qkk0MW_bvnU
https://www.youtube.com/watch?v=BYXTJc0jN7c
https://www.youtube.com/watch?v=VfYTdeRFdCQ
https://www.youtube.com/watch?v=u1_9RuyrvuE

Given that it's so long, I'm sure I said some career-ruining things in there somewhere. My apologies...




---
2:43pm on Tuesday, 18th August, 2015:
Mall Mug
Weird
I was looking through my 2008 Sky Mall magazine this afternoon, because the alternative was to do some work. I came across this ad for a mug you plug into your laptop's USB port to keep it (the mug) warm:




As this seems to be the kind of thing that would rapidly drain a laptop battery, I was all set to mock it. However, there's a whole slew of them for sale on Amazon, so I guess it's not quite the superficially-good-intrinsically-bad idea I thought it was.

I bet the people who buy the 2,500-capacity, floor-to-ceiling CD storage racks are declining in number, though.




---
4:59pm on Monday, 17th August, 2015:
13 Grand
Anecdote
This is from my 1st edition copy of Computer Lib, published 1974: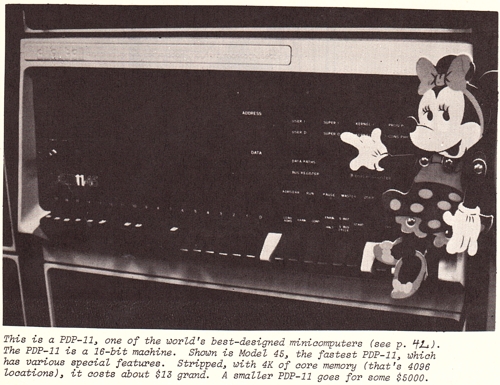 $13,000 for a machine with 4k of RAM, yet people still used them to write games.




---
12:16pm on Sunday, 16th August, 2015:
Sand and Cement
Anecdote
Last week, my father-in-law took it into his head to repoint our patio's awful crazy-paving.




I think that at one stage he may have picked up a different bag of sand to use in his home-brewed sand-and-cement mix.




---
Latest entries.
Archived entries.
About this blog.
Copyright © 2015 Richard Bartle (richard@mud.co.uk).